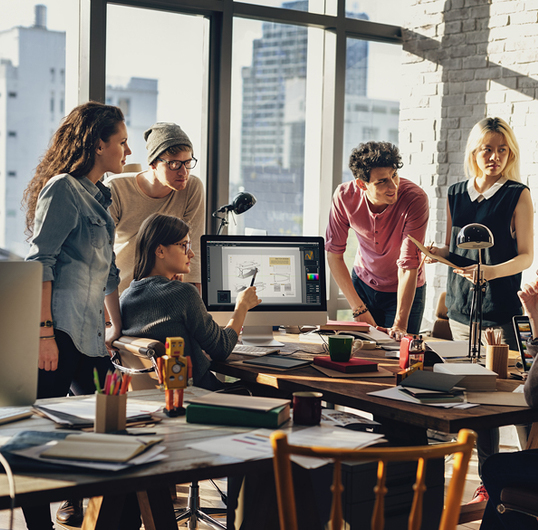 Unique experience: It's not always outdoor hikes, retiring rooms and skateboarding in the hallways, but we know how to design a employee favorable work environment. Creativity and innovation grow the business so improving the workspace is always on the management mind.
Boost your learning: We would load you with responsibility, idea is to make you independent and start your career growth on the first day. We would hire you because of your skills, but expectation bar is always to look beyond. You would always be a big part of every small thing that the company drives. Most of the time you would feel it's work outside your job description, but thats what gives you the adrenaline kick and bounce of learning. Founders and employees work together; hierarchy is flat so you learn from the best.

Freedom to work: ​You would make wise and smart decisions, take accountability for the results and own up consequences. The chance to steer success and progress will always motivate you perform one step beyond.Innovation would be your DNA :​ We build fast and fail fast and thats how we innovate. Idea is always to keep you in the fast track and front lane. You would have the license to always show off your skill ! deliver results with fresh designs and new concepts that capture customer interests.Dynamic energy wave drives progress in the company, so yes pressure is there but we make it fun filled. You would feel pride in building for the company and sharing in its ups and downs – a part of the tightly knit family.
The perks:​ There would be enough to keep you happy:
● Flexi working hours
● Work from home kits
● A casual atmosphere
● Employee discounts and free services.
The long-term benefits include sharing in the success, if the company succeeds. That could mean a fancy position or employee stock options
Satisfaction Guaranteed: ​Employees share every ounce of growth and success of the company, so you drive your own career path inside the company. We would make sure that you feel special every time you do good and get you back on track when you fail.